Vignettes / Downtown / Pavilion-York
Ralph Connor House
(University Women's Club)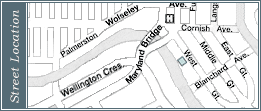 Enlarge text: smaller | larger
One of Canada's best-selling authors, Ralph Connor, a pseudonym of Charles Gordon, built his home in the exclusive Armstrong's Point residential district in 1913.
Born and raised in Upper Canada, Gordon had studied Theology in Toronto. After spending four years in Banff as a circuit-preacher, he was appointed to St. Stephen's Church (Elim Chapel) in Winnipeg's West End.
It was at this point in his life that he started his literary career. The success of his early books provided him the financial success that allowed him to build his mansion. The George Northwood designed home cost $50,000.00 to build.